Urwerk and Collective Horology Honor Space Shuttle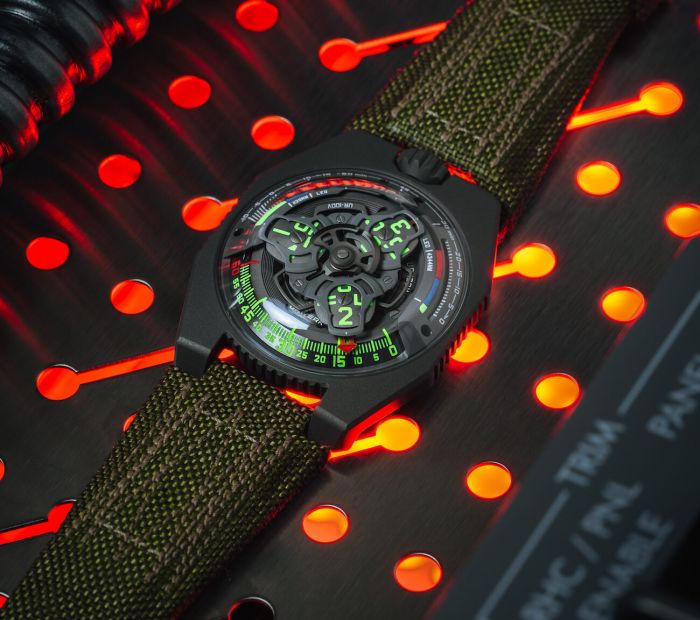 From JustLuxe content partner iW Magazine
Urwerk has teamed with Collective Horology and the Intrepid Sea, Air & Space Museum to create a special edition Urwerk UR-100 that pays tribute to Space Shuttle Enterprise on the 40th anniversary of the first Space Shuttle program.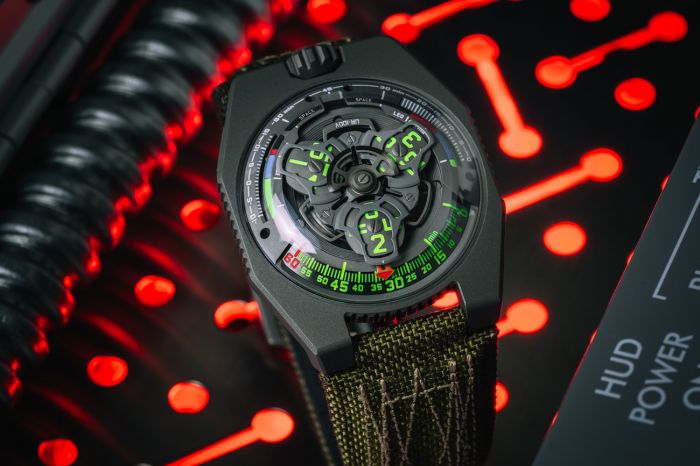 The pioneering independent watchmaker has re-designed its existing UR-100 to incorporate color-coded indicators designed to give the viewer the ability to track the Space Shuttle program's typical launch and landing sequences. These are visible through apertures that also show the approximate location of the Shuttle at each phase of launch and landing.
Thus, green represents the shuttle on Earth on the new titanium and steel-cased Urwerk 100V P.02. Blue indicates the shuttle traveling through the Earth's sky or lower atmosphere. Red represents the upper atmosphere and black indicates the time in low earth orbit.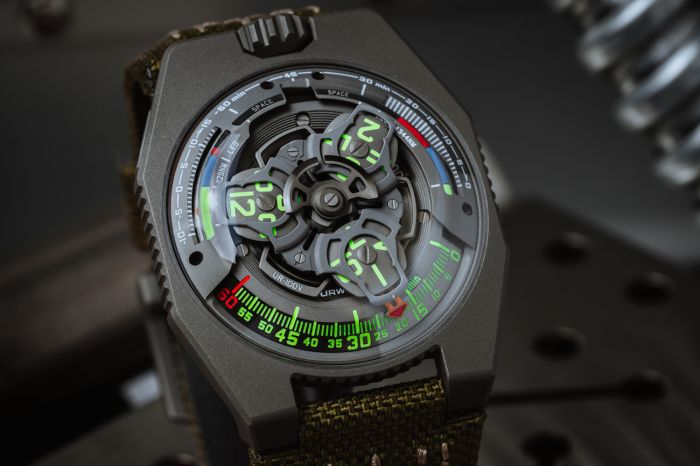 Where the standard Urwerk UR-100V tracks the kilometers traveled on the equator in twenty minutes, and the kilometers the earth covered around the sun in the same period, the new edition takes a different approach. It re-configures the dial's two lateral apertures to track the process and timing of the Space Shuttle's launch and landing.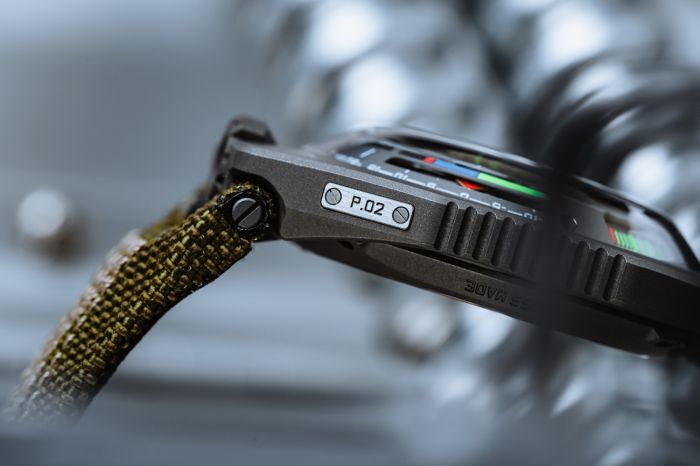 Space Base
The partnership is Urwerk's first collaboration with an organization or individual other than a watchmaker (and one whiskey maker). The joint effort was spurred by life-long admiration for the Space Shuttle and space travel by Urwerk co-founders Martin Frei and Felix Baumgartner, and by Asher Rapkin and Gabe Reilly, founders of Collective Horology, a California-based collector group.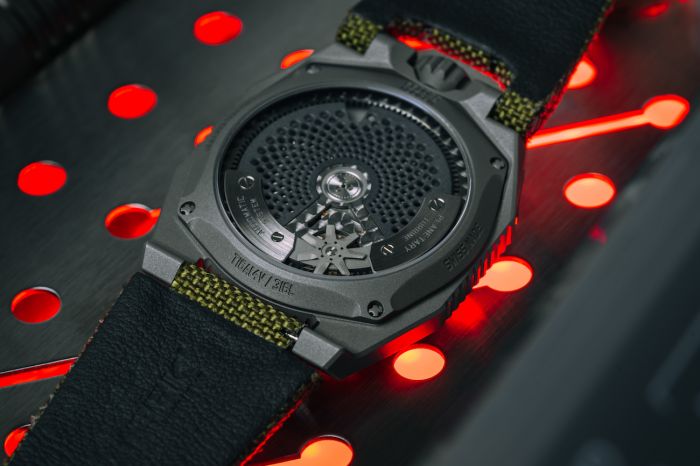 "We loved URWERK's use of orbiting satellite hours and minute hands for the UR-100 SpaceTime launched in 2019, but we saw an opportunity to tell a different story," says Reilly. He adds that he imagined how Urwerk might create a watch that was a tribute to the Space Shuttle prototype Enterprise.
Collective Horology and Florida-based Goldsmith & Complications, the watch's official authorized dealer, will donate $50,000 dollars from the proceeds of this project to the Intrepid Museum in New York City.
The new Urwerk UR-100V P.02 is available to exist and new Collective Horology members. This will be a limited edition of twenty pieces. Price: $62,500.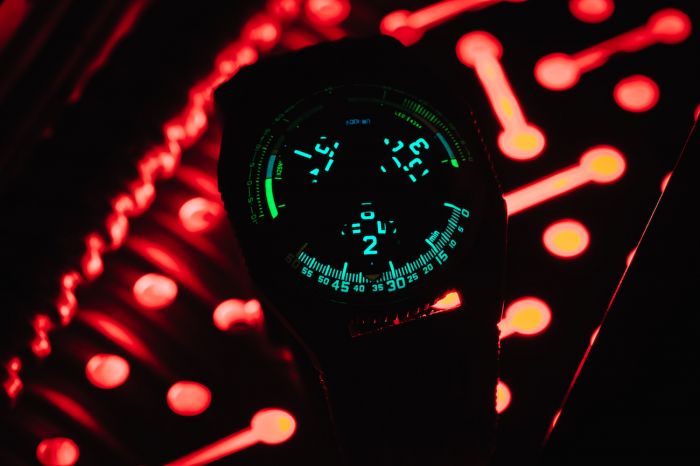 Specifications: Urwerk UR-100V P.02Movement: Self-winding UR 12.02 movement with the winding rotor governed by a Windfänger airscrew. Materials include satellite hours on beryllium-bronze Geneva crosses; aluminum carousel; carousel and triple baseplates in ARCAP alloy. Forty-eight-hour power reserve. Finishing: Circular graining and sanding, shot peening; chamfered screw heads; hours and minutes painted in SuperLumiNova.

Displays: Satellite hours and minutes; space shuttle sequence of events indications.

Case: 41mm by 49.7mm by 14mm titanium and stainless steel with a gunmetal PVD finish. Sapphire crystal and thirty meters of water resistance.

Price: $62,500.

Bomberg Celebrates Mexican Spirit with New Watch Design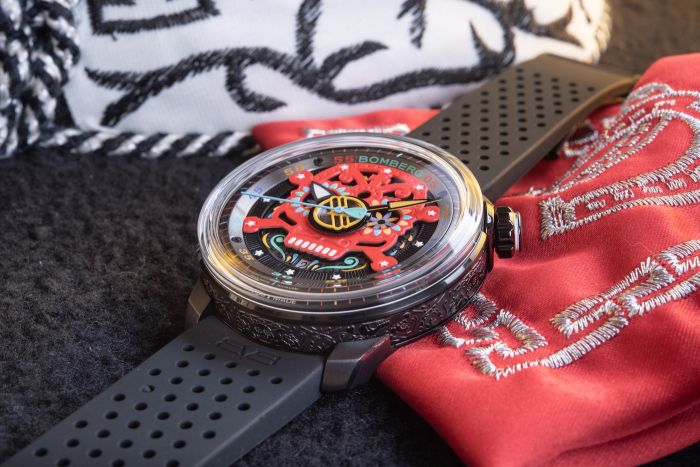 From JustLuxe content partner iW Magazine
Over the years I have written about many brands that sadly haven't stayed the course. The watch industry is a very competitive environment and only the fittest survive. By that, I mean having a good marketing strategy and supply chain is a prerequisite.
So many watchmakers I've featured have exceptionally high manufacturing costs and pedestrian designs. Certainly, in these extraordinary times, buyers want something extra special at a very competitive price.
One of my recommendations would be to take a closer look at Swiss brand Bomberg.
I first became familiar with Bomberg in 2012 when the company was first established. Originally, the company marketed itself as a unique, ultra-creative lifestyle brand with flair. At that stage, they released three exciting quartz models called the Maven, Semper, and 1968.
Over the years I have followed the progress of the company and I'm delighted they are still buoyant. In fact, they are now producing some pretty decent Swiss mechanical timepieces, including the BB-01 Automatic Mariachi Red Limited Edition.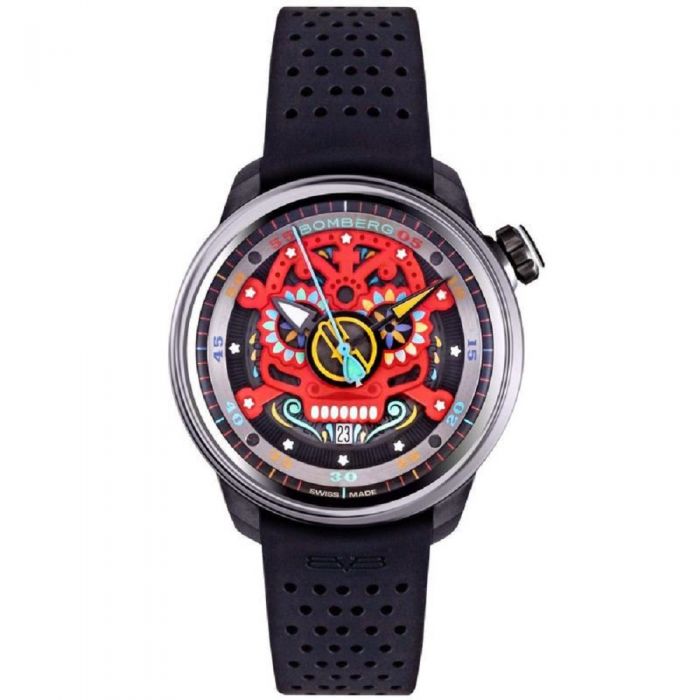 Mexico-inspired
Interestingly, a brand based in Neuchâtel, Switzerland, has drawn inspiration from Mexico for its latest watch. However, Mexico is one of the company's largest markets, and the brand offers several models with historical Mexican designs.    
I spoke with Bomberg Marketing Director Frédéric Layani about the conception of the BB-01 Automatic Mariachi Red Skull Limited Edition. He informed me that Bomberg wanted to create the essence of Mariachi, which is far more than just a genre of Mexican regional music. The brand's interpretation embodies the notion of celebration.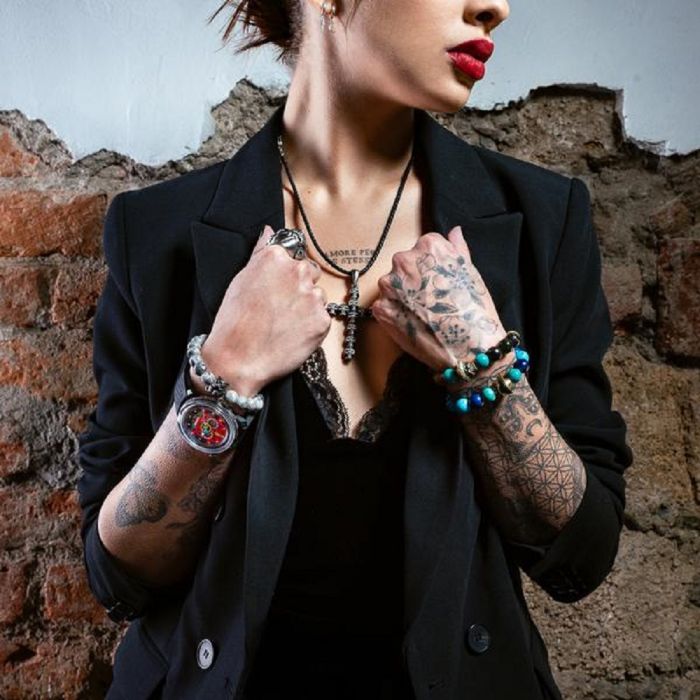 Certainly, wearing this flamboyant timepiece would give you a sense of exaltation.
Aesthetically the BB-01 Automatic Mariachi Red Skull Limited Edition has a really strong visual identity. I love the vibrant red multi-layered skull shape dial that makes this timepiece really distinctive. Other refined features include flower-shaped eyes, a cross on the forehead, and a central hoop.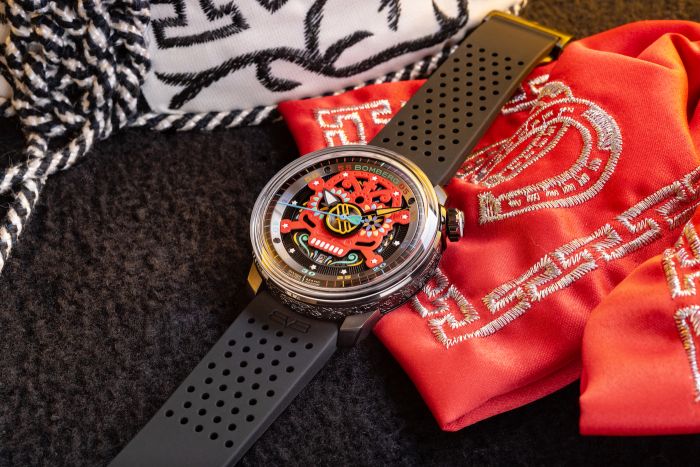 There is also engraved detailing on the 43mm stainless steel case and "glass-box" anti-reflective sapphire crystal, which is a really classy touch. Overall the composition has been well executed and the finishing is superlative.
At the heart of the watch is a high-quality movement from Swiss manufacturer Sellita. Functionally, the BB-01 Automatic Mariachi Red Skull Limited Edition features hours, minutes, seconds, and a date indication at 6 o'clock. The watch also has a power reserve of thirty-eight hours and is water-resistant to a depth of fifty meters. To complete the picture the timepiece is presented on a black silicone strap with a deployant buckle.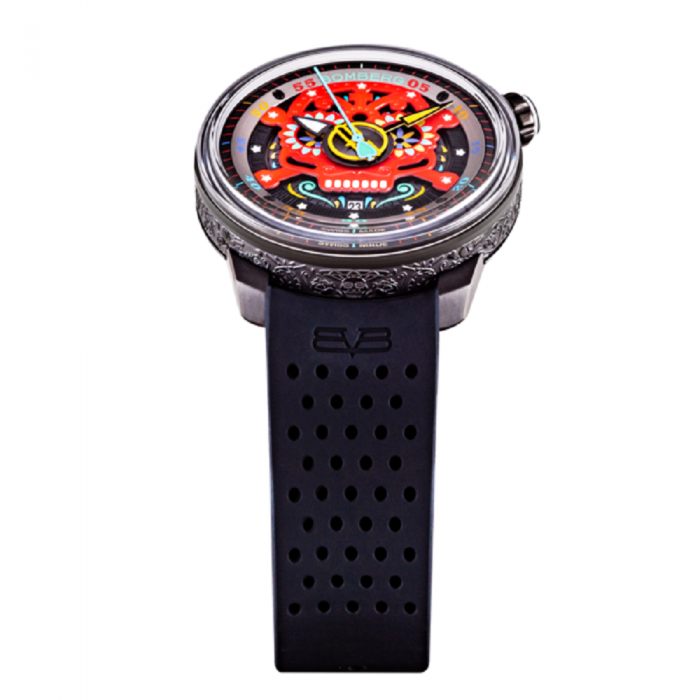 With a suggested retail of CHF 1,775 (approximately $1,900), the BB-01 Automatic Mariachi Red Skull Limited Edition is very competitively priced. (Note that Bomberg also offers a brown-dialed version of this model at the same price.)
Written by Steve Huyton, an industrial designer, illustrator and author who publishes Total Design Reviews.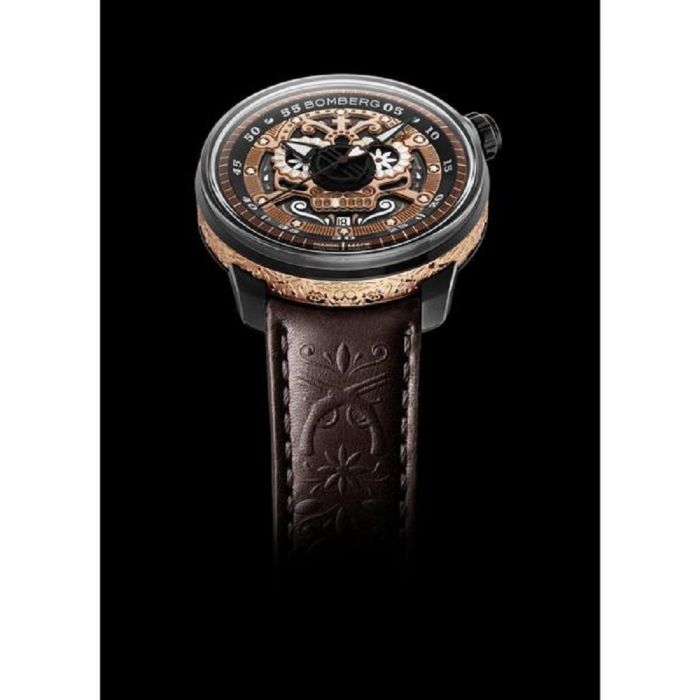 Patek Philippe Updates Six Favorites With New Artisanal Finishes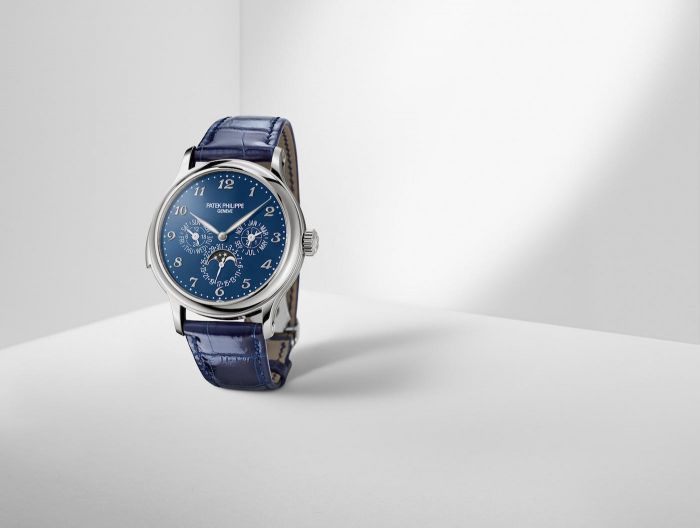 From JustLuxe content partner iW Magazine
Alongside the many new dome clocks and pocket watches, Patek Philippe is debuting during its wide-ranging Rare Handcrafts 2020-2021 exhibition in Geneva this month, the manufacture is also presenting six ongoing-collection wristwatches re-interpreted with new artisanal craftsmanship.
These debuts include a Ref. 6002R-001 Sky Moon Tourbillon, a diamond-set minute repeater with retrograde perpetual calendar (Ref. 5304/301R-001), a minute repeater with perpetual calendar (Ref. 5374-001), the Ref. 7040/250G-001 Minute Repeater for Ladies, a richly decorated Golden Ellipse (Ref. 5738/51G-001), and a white gold Nautilus set with diamonds. 
Prices for all these models are on request.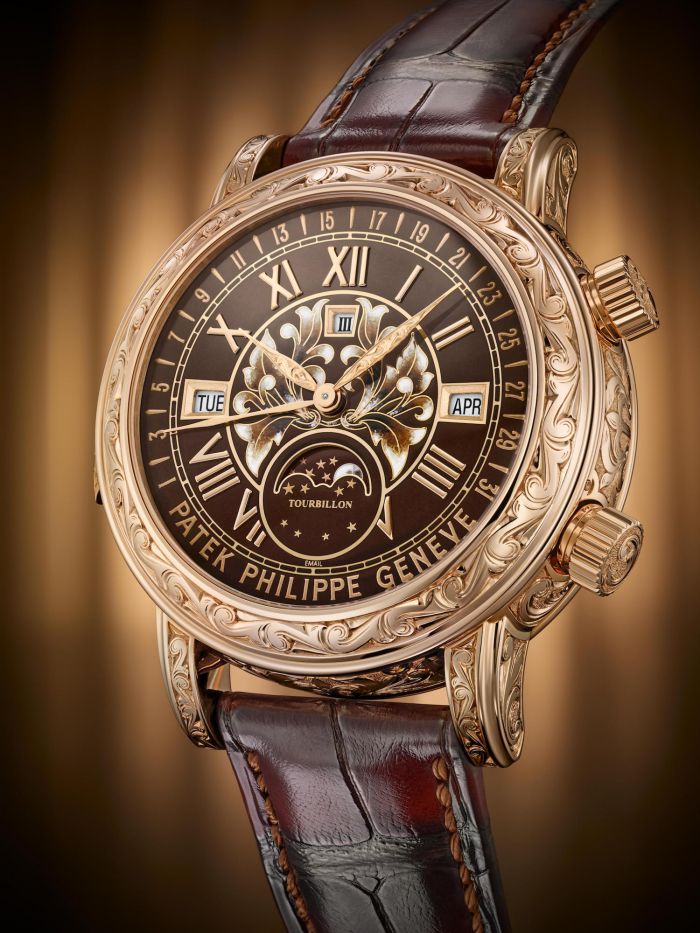 The Ref. 6002R-001 Sky Moon Tourbillon Haut Artisanat
Patek Philippe has given this ultra-complex watch (with twelve complications) a stunning hand-engraved rose-gold case with a brown dial in grand feu champlevé and cloisonné enamel.
Patek Philippe's engravers spent more than 100 hours creating the 'volutes and arabesques' case, crown, and repeater slide. As Patek Philippe's second most complicated model, the Sky Moon Tourbillon combines a tourbillon and a minute repeater that strikes on cathedral gongs, and a perpetual calendar with retrograde date.
Other features include a moon-phase display and the leap year cycle.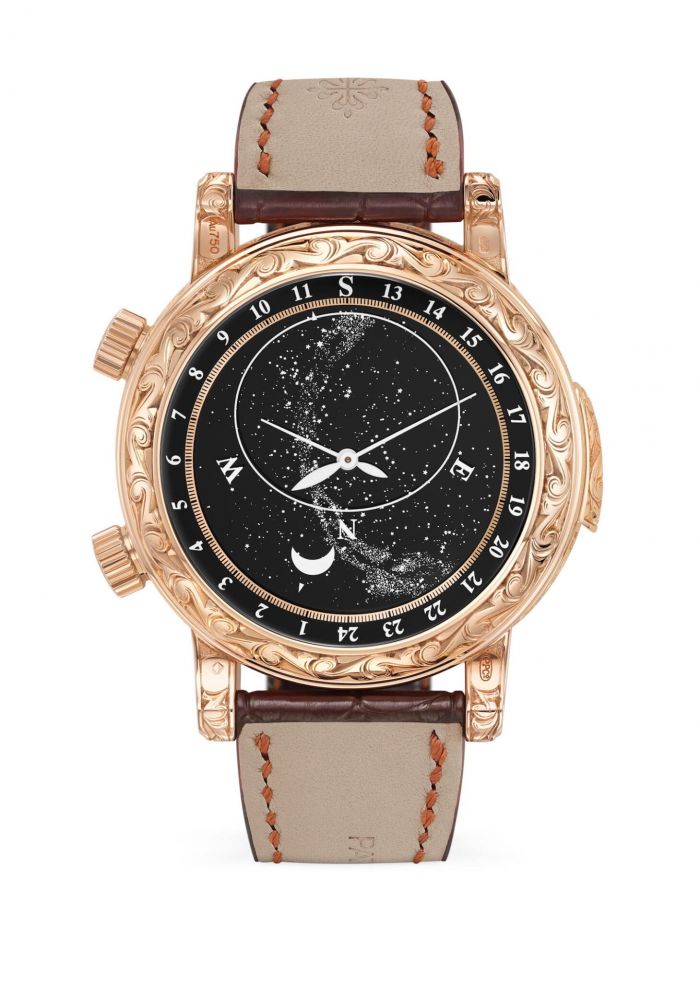 From the back, you'll see a celestial chart showing the apparent motion of the moon and the stars. Patek Philippe will deliver the new Ref. 6002R-001 Sky Moon Tourbillon with hand-engraved cufflinks in rose gold. It replaces the Ref. 6002G-010 in white gold with a black grand feu enamel dial.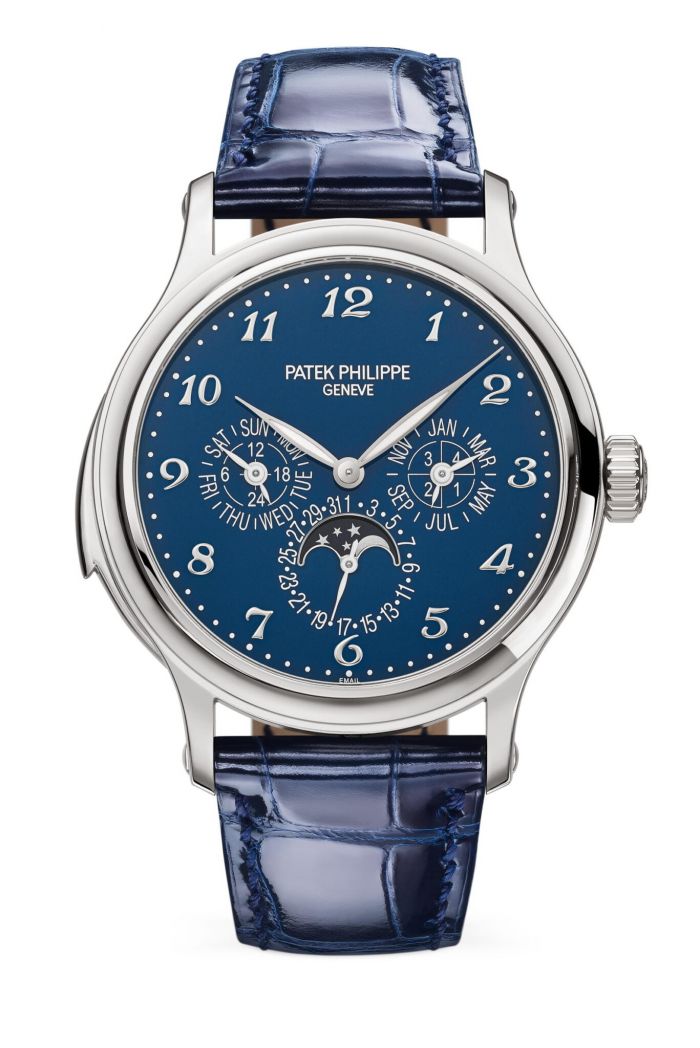 The Ref. 5374G-001 Minute Repeater with a perpetual calendar
Initially available in platinum, this chiming watch with cathedral gongs now boasts a white-gold case with a glossy blue grand feu enamel dial. Also new are the slightly larger perpetual calendar (day, date, month, leap year cycle) displays, placed on slightly enlarged subsidiary dials.
In addition, the white gold hands are now highly luminous, while the moon-phase aperture is made using the champlevé enamel technique and then framed in white gold (see below).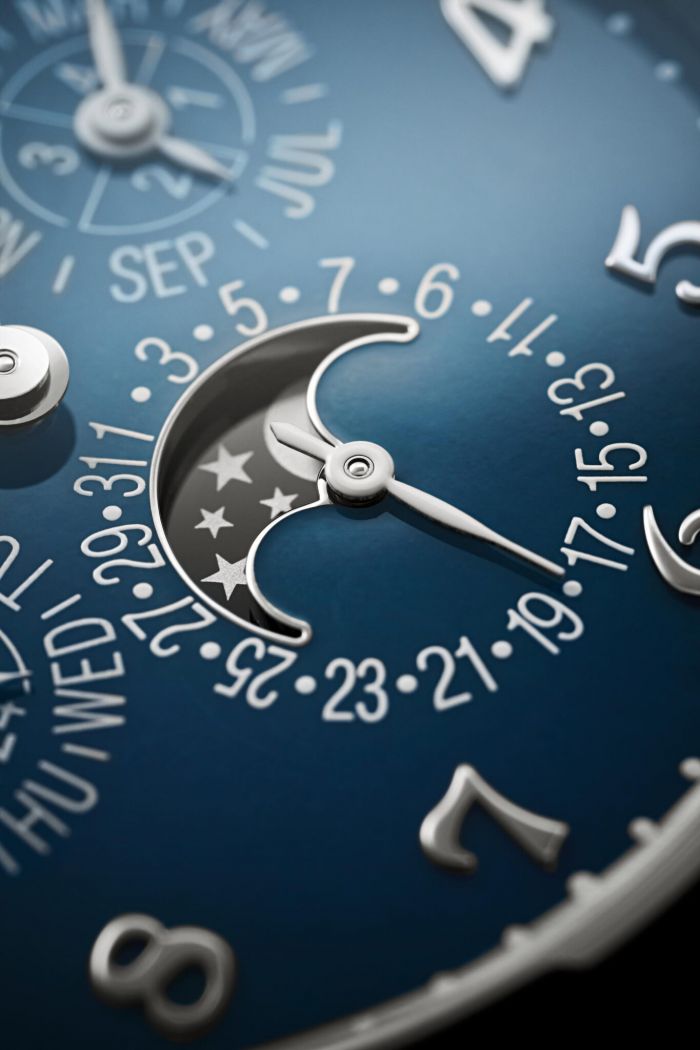 Ref. 7040/250G-001 Rare Handcrafts Minute Repeater for ladies
This groundbreaking minute repeater is now extra luxurious with a blue grand feu flinqué enamel dial and a bezel with a Flamme diamond setting. The new model is slightly larger (36m) than the earlier models, and also boasts a diamond-set bezel.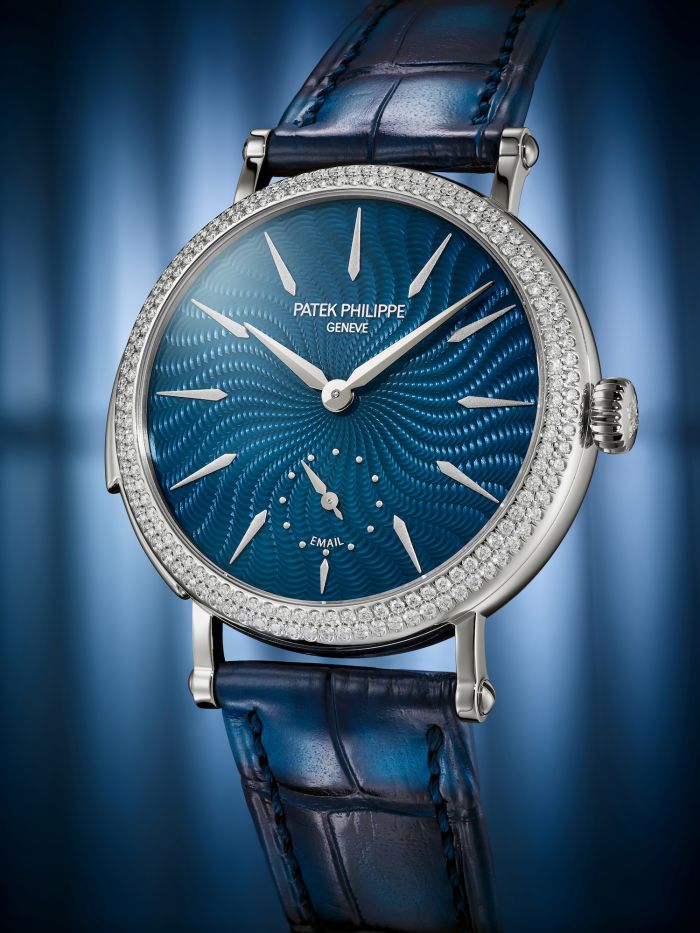 If you recall the dial on the Patek Philippe "Siamese Fighting Fish" pocket watch from 2019, you'll see a similarity with this new model. Artisans fully guilloche the dial's gold plate and then coat it with transparent blue enamel that allows the underlying decor to shine through.
This method is an old technique called flinqué enameling. Patek Philippe ensures that this watch remains thin (5.05mm) by using its self-winding caliber R 27 PS, powered by a 22-karat gold eccentric mini-rotor.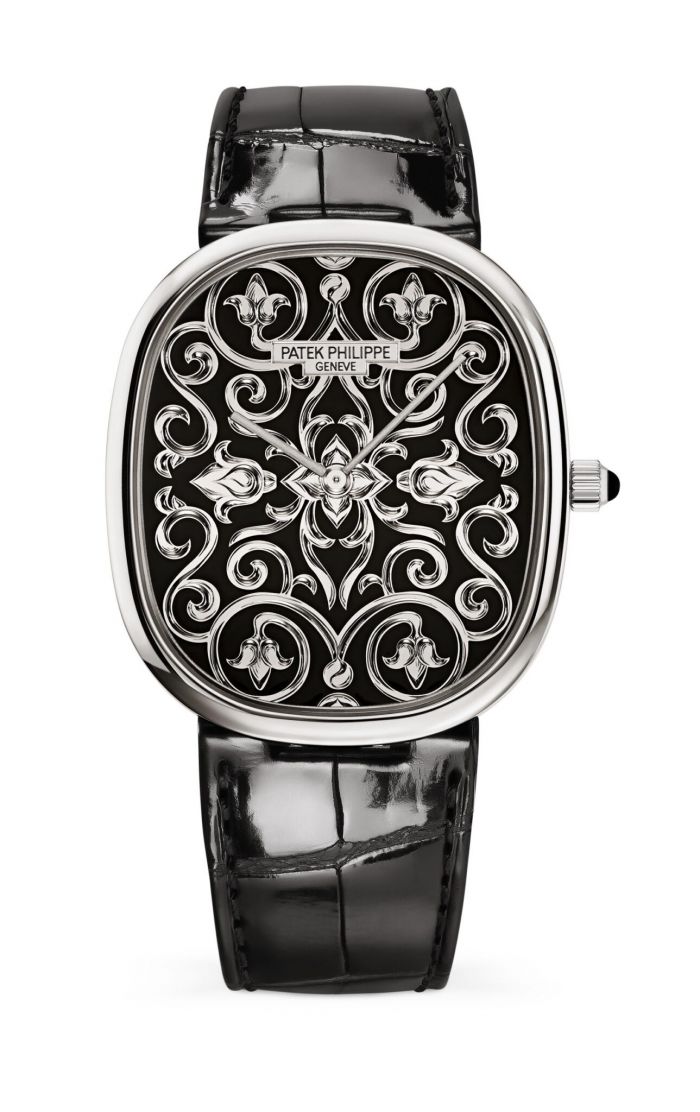 Ref. 5738/51G-001 Golden Ellipse Haut Artisanat
This new design takes full advantage of one of Patek Philippe's most classic case shapes. Here in white gold, the Ellipse boasts a stunning champlevé enamel dial that has been manually engraved. The watch's curly-cue decor, known technically as 'volutes and arabesques,' nicely complements the oval case shape of the Golden Ellipse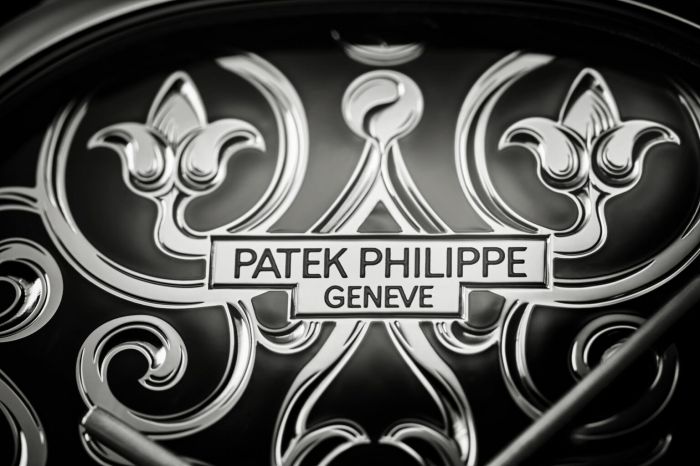 Inside Patek Philippe places its famed automatic Caliber 240 powered by an off-center recessed mini-rotor in 22-karat gold. The thin (6.58mm) watch joins the current Golden Ellipse collection, which also includes Ref. 5738P-001 in platinum with a blue sunburst dial and the Ref. 5738R-001 in rose gold with an ebony black sunburst dial.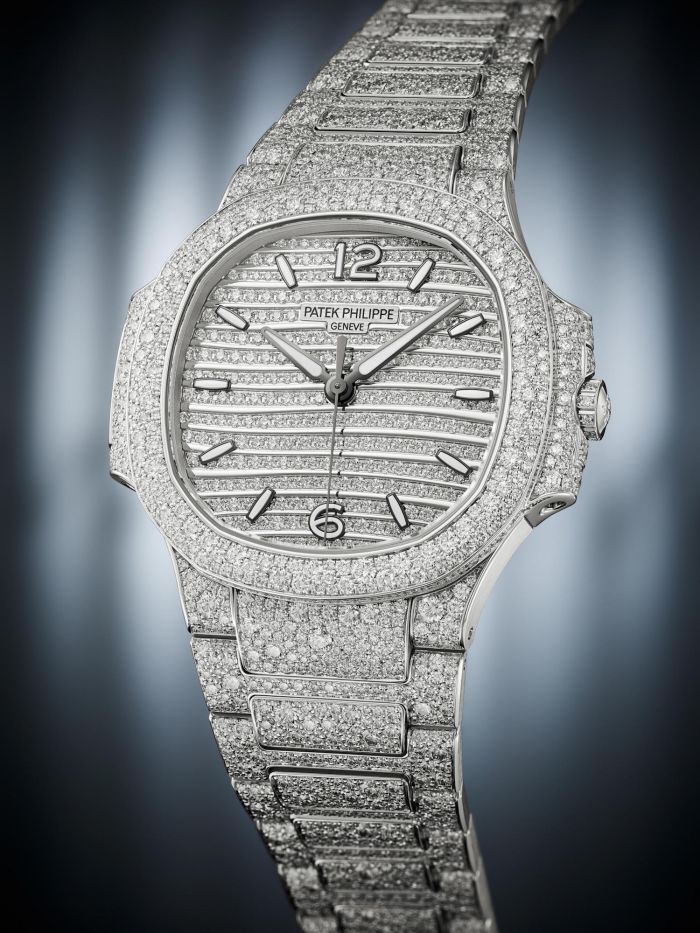 Ref. 7118/1450G Nautilus Haute Joaillerie
Released in rose gold just a few months ago, this newest highly reflective diamond-set Nautilus can now be had in a white gold case. Set with a random pavé setting (also called snow setting), the watch's case, dial, bezel, and bracelet are decorated with nearly 13 carats of diamonds.
Still, despite the glitter, the blackened white gold hands remain visible thanks in part to a generous coating of luminous material.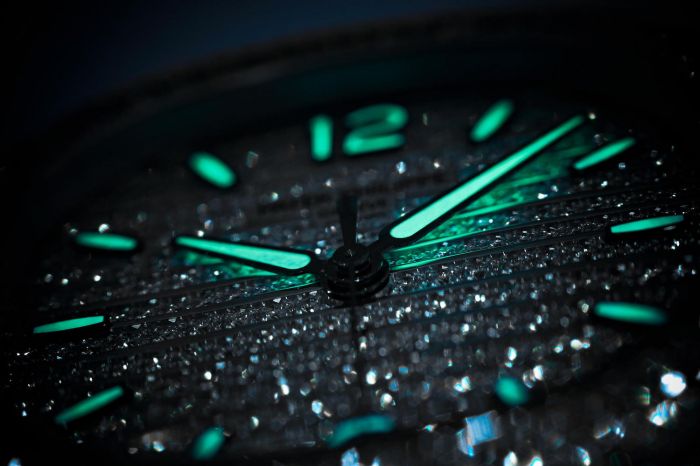 This 32.5mm white-gold case is fitted with the automatic Caliber 324 S movement that has been elaborately finished and visible through the sapphire-crystal case back. Sunglasses, please.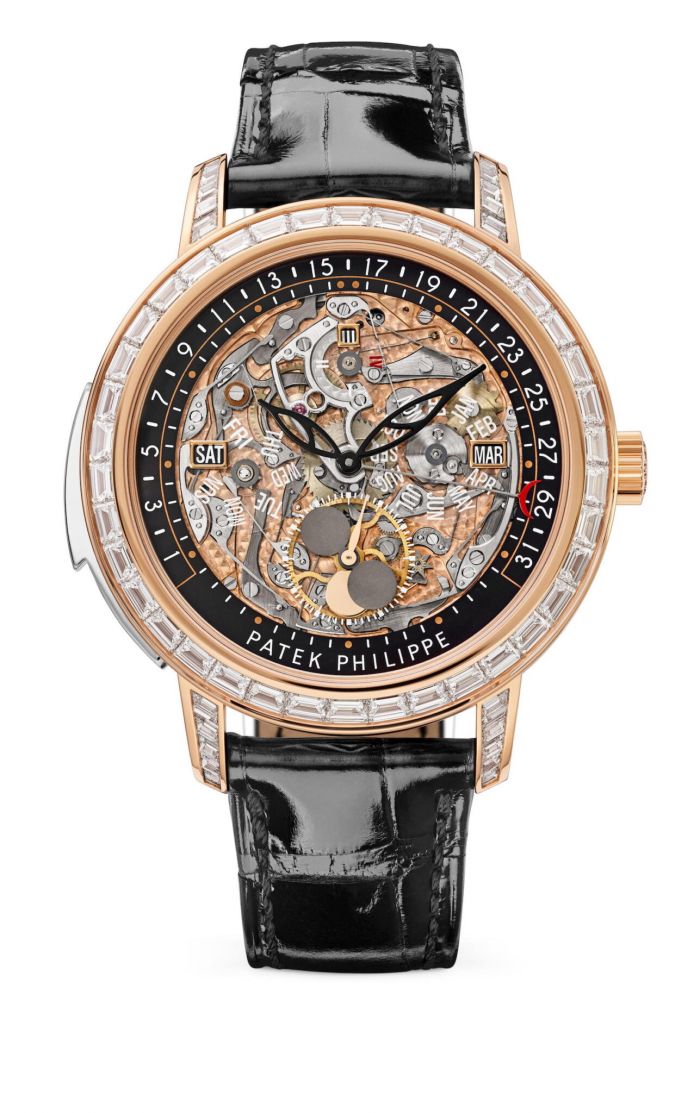 Ref. 5304/301R-001 Minute Repeater with a retrograde perpetual calendar?
Now in a 43mm rose-gold case set with eighty baguette diamonds, this grand complication was first launched in 2006 in a platinum case.
Its new diamond frame boasts 6.22 carats of diamonds on its bezel, lugs, and clasp, dramatizing Patek Philippe's seriously complicated system for clearly displaying the day, month, and leap year cycle with transparent sapphire-crystal disks. To add subplots to the drama, Patek Philippe has also added white-gold inlays with engraved leaf motifs in the case flanks and the repeater slide.
The back offers its own window into the architecture of the self-winding caliber R 27 PS QR LU movement, most notably the minute repeater mechanism with two gongs. The viewer can also watch the whirring of the centrifugal governor during chiming.
Finally, Patek Philippe artisans re-imagined the finished here with a leaf motif now visible on the rose gold mini-rotor. Patek Philippe has built so many stunning technical and artisanal highlights into this watch, we highly recommend you view the brands' own visual tour, available here.